Omar N. Bradley Memorial Art Gallery: Cook Pot and Palette
Brilliant reds, tempestuous blues, and camo greens gave life to Army cook Sergeant Angelo N. Gepponi's memories as he recorded them with paint and pen throughout his service during World War II. For the first time, his striking artwork will be revealed to the public more than 70 years since its creation. Cook Pot and Palette, a new exhibit of his work, will be on display in the Omar N. Bradley Memorial Art Gallery at the USAHEC, July 16, 2015 through May 23, 2016.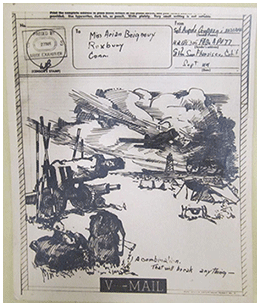 Comprised of 14 drawings sent as Victory Mail (V-mail) to his girlfriend back home, 18 portraits as unique as the individuals they depict, and 15 stunning watercolors painted throughout his unit's travels, this exhibit contains such variety that everyone will encounter a favorite they can relate to. If nothing catches your eye the first time you visit, for the sake of preservation, a majority of the works will be rotated midway through the exhibit's run with others done by Gepponi creating new opportunities for discovery. The evolution of Angelo Gepponi's career from cleaning dishes, to cooking mess hall meals, to cleaning the brushes of his students is a story of dedication that spans years and nations, leaving behind a trail littered with extraordinary images for appreciation.
Leading a life as colorful as his works, Angelo N. Gepponi was born in the province of Arezzo in Tuscany, Italy on February 3, 1911, before moving to the United States with his family when he was three and becoming a naturalized citizen. Throughout his childhood in Torrington, Connecticut, he worked at various local restaurants before dropping out of school after eighth grade to work full time in order to help support his four younger siblings. His dreams of becoming an artist led him to a nighttime janitorial job to pay for day classes as a Tiffany Fellow at the National Academy of Design in New York City. While there, the United States entered into World War II and Angelo was pulled away from his passion by the draft at age 31 to be a cook for the 77th Infantry Division, 305th Field Artillery.
Sergeant Gepponi spent two years at Fort Jackson in South Carolina and two in the Pacific Theatre busily working in mess halls for the 77th. Yet, throughout those four years he managed to find the time to keep creating the art that he loved by depicting the daily life of a Soldier through numerous portraits, drawings, and watercolors. After receiving his discharge from the Army on December 15, 1945, he was able to take advantage of the G.I. Bill and fully immerse himself in the study of art. Graduating cum laude from New York University with a bachelor's degree in art education, he went on to obtain a master's of art and was hired as a teacher at Cliffside Park High School in New Jersey.
Upon his retirement from teaching in 1976, he continued to paint and draw for many years and was able to look back on a career full of numerous awards and recognitions for both his art and his teaching. Mr. Gepponi stated late in his life that he was always grateful to America for the opportunity to serve his country and to fulfill his dream of becoming an artist and teacher. Angelo N. Gepponi passed away in Lake Worth, Florida at the age of 90 in 2001, but his experiences live on today through his artwork in many private and public collections throughout the United States and Europe.