"Where the Hell is Korea?" - Warfare in the Land of Sorrow
On June 25, 1950, the North Korean People's Army attacked south across the three-year-old Demilitarized Zone that separated North Korea from South Korea. It was a blatant, unprovoked, and reprehensible act of aggression that led to three full years of brutal warfare and, ultimately, more than 65 years of an unstable armistice.
The exhibit at the U.S. Army Heritage & Education Center "Where the Hell is Korea?" - Warfare in the Land of Sorrow, showcases a variety of U.S. Army Soldiers who served in each of the phases of the Korean War. Using original artifacts and archival materials from the collection, as well as unique immersive vignettes, the exhibit highlights the ground-level realities of one of America's "forgotten wars."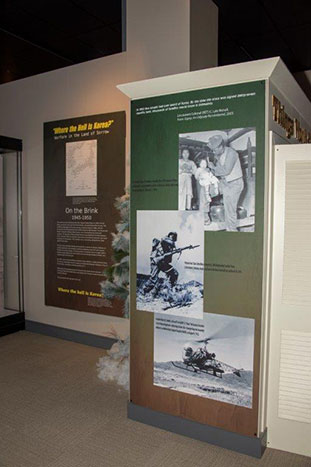 The introduction at the beginning of the Korean War exhibit greets the visitor with several iconic images from the conflict and provides a socio-political, and military setting to the region in the years immediately following World War II.
The Pusan Perimeter section highlights two Soldiers who were involved. First Lieutenant C. Lyle Rishell led 2nd Platoon, Company A, 24th Infantry during the defense of the perimeter. Corporal Jack Zimmermann, a Pole who survived the Holocaust, served as a tanker in the 6th Medium Tank Battalion during the breakout and advance to the Yalu River.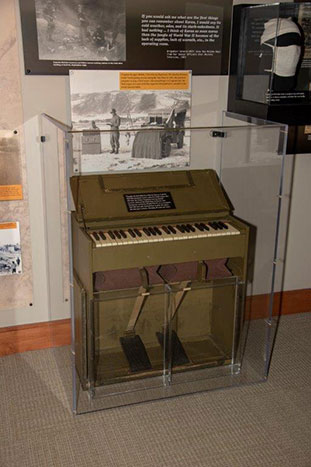 Captain Anna Mae McCabe, 4th Field Hospital, X Corps is featured in the Inch'on section. Nurse McCabe played a field organ for chaplains in the field when she was not on duty. McCabe's hospital was one of the first medical outfits ashore after the September invasion. She would later become America's first female general officer.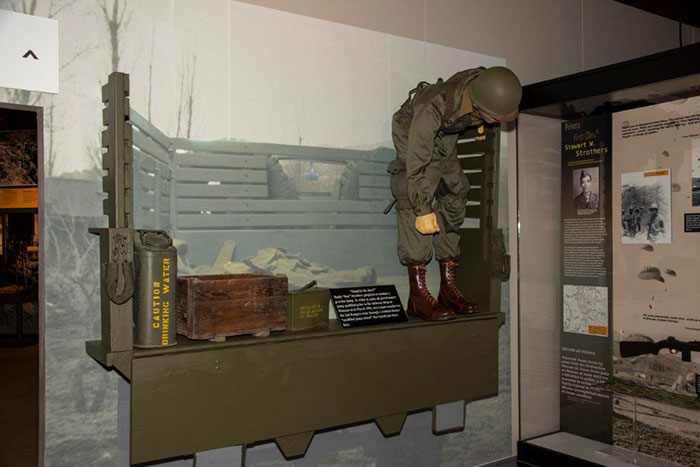 Private First Class Stewart Strothers, a medic assigned to the 2nd Ranger Infantry Company (Airborne), became jump certified in Korea just two weeks prior to the airborne assault into Munsan-ni. His impromptu jump school was conducted using the back of an M35 truck. 2nd RICA was the only Ranger company comprised entirely of African American Soldiers.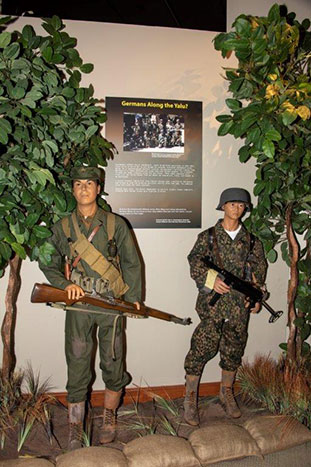 A large portion of the exhibit features the Army's role in training and soldiering with Koreans in clandestine operations. This vignette speaks to an airborne operation to knock out enemy radar stations along the Yalu River. As a psychological warfare tactic against the Chinese & North Koreans, Army command outfitted the friendly Koreans in German World War II camouflage. The mission was a complete success.