After a test period to ensure public safety, the USAHEC is expanding limited visitation to the Soldier Experience and Reserves Galleries beginning Tuesday July 21st. Our new visitation hours will be Monday thru Friday, 10:00am-5:00pm, with safety guidelines in place. Our Research Room and other indoor exhibit areas remain closed to the public. For further detail on safety procedures, please check the USAHEC Facebook page. In addition:
• The trail and outside exhibits are open; please respect social distancing.
• We have moved our lecture series to an online streaming format. As always, extensive online resources are available on the website, ranging from historical video and podcast presentations to Educational Toolboxes and online research resources.
• USAWC faculty and students can find assistance in research at both the Root Hall and Ridgway Libraries with limited hours.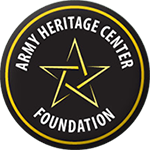 The Army Heritage Center Foundation, in cooperation with the U.S. Army and our other partners, serves as the lead agency supporting the development and expansion of the U.S. Army Heritage and Education Center (USAHEC).