All indoor exhibit spaces are open for visitation, Monday thru Saturday, 10:00am-5:00pm and Sunday, 12:00pm-5:00pm, with safety guidelines in place. Masks or face coverings are required to enter and throughout our facility. For questions about general visitation, please call the USAHEC Information Desk (717-245-3972).
Ridgway Hall continues to support researchers to view material by appointment. For more information on research, please see these pages: USAWC Students, Faculty, and Staff (https://usawc.libguides.com/remotelearning/RidgwayReservations) OR General Public and Other Researchers (https://ahec.armywarcollege.edu/publicresearch/default.cfm).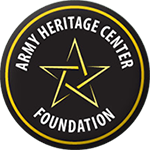 The Army Heritage Center Foundation, in cooperation with the U.S. Army and our other partners, serves as the lead agency supporting the development and expansion of the U.S. Army Heritage and Education Center (USAHEC).
December 15, 2020
November 12, 2020
November 2, 2020