In support of the recent guidance provided by the President, the U.S. Army Heritage and Education Center (USAHEC) is postponing public gathering events, such as our lectures, thru 30 April 2020. In addition, our Visitor and Education Center and the Ridgway Hall Research Center are closed to the public, but will remain open for US Army War College Faculty and Students.
Our trail and outside exhibits remain open to the public. We ask that if you do walk the trail, we encourage all to adhere to the recommended social distancing guidelines.
USAHEC will continue to evaluate future events and provide timely input reference their status. Please watch our social media pages and our website for future updates.
USAHEC online services including our search engine, digital materials, educational tool boxes, podcasts, and YouTube products will remain available for our users.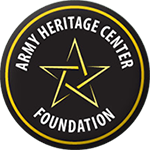 The Army Heritage Center Foundation, in cooperation with the U.S. Army and our other partners, serves as the lead agency supporting the development and expansion of the U.S. Army Heritage and Education Center (USAHEC).